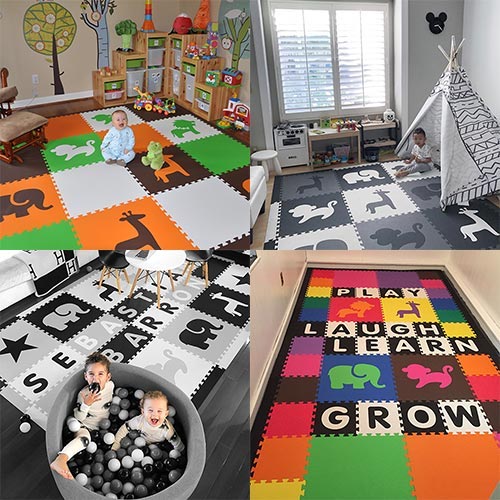 Children's Play Mats for Playroom Floors
All kids need a soft place to play. Whether you have a baby learning to crawl, a toddler just beginning to walk or an older child who loves to play and roll around, SoftTiles Interlocking Foam Mats are the perfect flooring to create soft, cushioned, designer playrooms. The interlocking design of these mats make it easy to create a floor mat of any size- from a small area for babies to learning to crawl to huge playrooms covering an entire basement floor. Sold since 1994, SoftTiles are designed with the safety of your kids in mind.
We offer beautiful designs of die-cut mats in many different design themes, so it is so easy to put together a playroom floor that is not only soft and safe, but attractive as well. Excellent design is what we love to do, so we hope you enjoy exploring our many design themes, ranging from Safari Animals, Transportation, Princess, Dinosaurs, and more. A well-designed playmat can instantly transform a room into an imaginative and fun play area your kids will love, and we hope here at SoftTIles we've given you all the pieces you need to make that happen.
SoftTiles children's play mats are made of high quality foam and are thicker than most. So much so that we've created specially-made sloped mat borders to help prevent tripping.
• Soft- Cushioned foam mats are soft for babies and adults.
• Non-toxic Foam Mats- BPA, Phthalate, Latex free, Formamide free. No fire retardants. Tested to EN-71 Safety Standards.
• Versatile- Use on hardwood, concrete, tile, or low pile carpet.
• Waterproof- Easy to Clean. Spills aren't absorbed and can be wiped right off.
• High Quality- Durable 5/8" thick mats made in Taiwan.
• Easy to Install- Do it yourself- create large rooms or small area rugs.
Ready to Order Play Mat Sets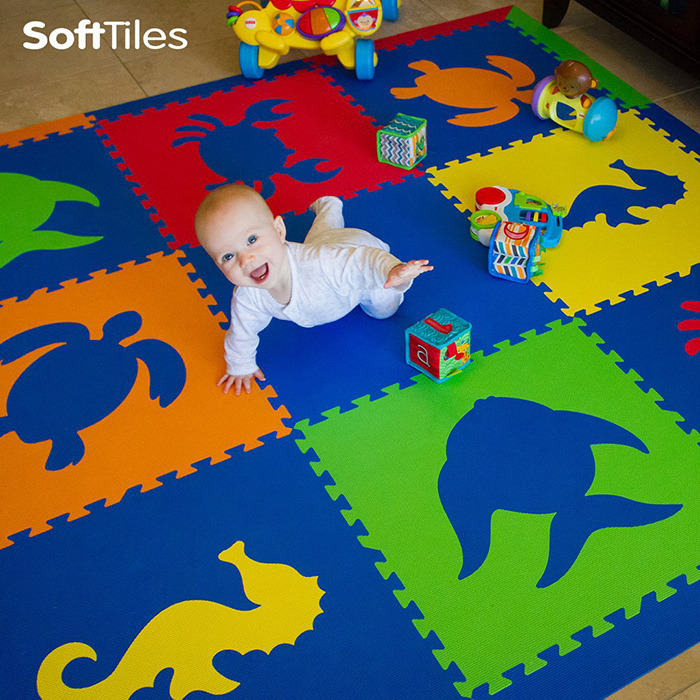 SoftTiles 9 Tile Play Mat Sets
Choose from our many pre-made sets in different colors and designs. Each Play Mat is 6.5' x 6.5'. Comes with our specially designed sloped borders. Makes a perfect gift!
---
Custom Designed Play Mats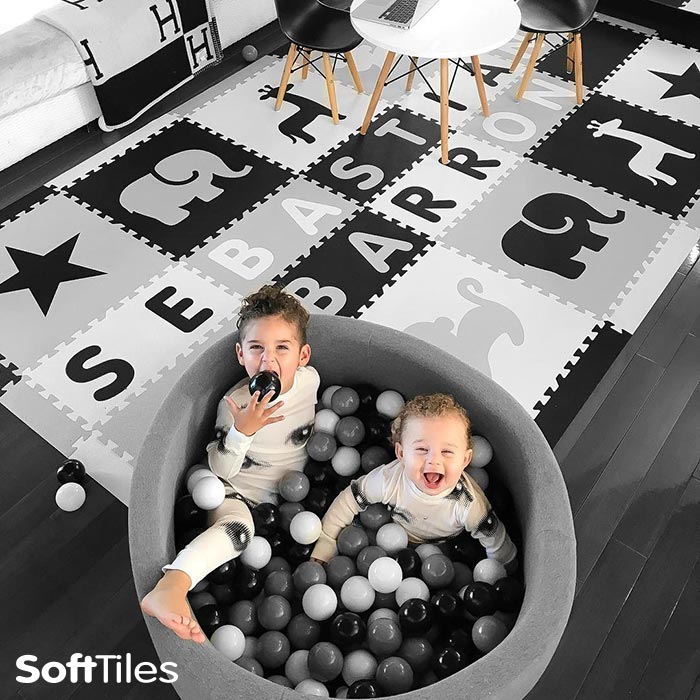 Design Your Own Custom Play Mat
Create beautiful custom play mats using any of our die-cut shapes. Easily personalize the mat with the name of your child. Use one of our templates and our Interactive Mat Builder or we can help design one for you.